SO after being hit with back to back snow storms (and more still to come) this is what my world looks like. Talk about a winter wonderland!
What is supposed to be a sidewalk in front of the house
The back porch. (The grill to the right and the railing in the background!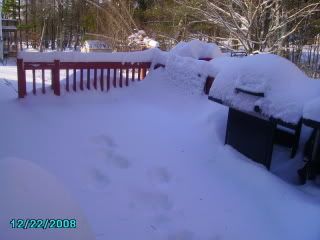 The mail boxes....LOL
The front of the house. There are steps leading to the front door!
Needless to say, we are all set with the snow until next year. But I know we will be getting more. It's only December and January and February are our snowiest months! We are in the path of another storm scheduled for Wednesday. They say now that it is supposed to be around 40*, so that means it will be all rain.....lovely! It will make everything wet and slushy and then it will go into freezing temps again and makes things slick! I love New England but I really hate the weather sometimes!