There will be trouble...LOL. My BFF turned 30 on November 4th, so I (along with 2 of our other friends (thanks for joining us Amanda and Bree) took Sierra out to Dinner and Trouble on Saturday. Chili's was awesome, until i went to pay the bill and realized I had left my Debit Card at home...WTF! Thankfully I have the greatest husband in the world and he came down to pay our tab.....LOL
So instead of going to the bar (not really our thing) we went and bought drinkies and went back to my house. Let me just tell you the trip in Hannaford's was Hilarious!!!! Of the 4 or us who went, I am the baby....I say that with some pride...LMAO! Anyhoo, while I was buying the Smirnoff Ice (YUMMY!!!) Bree noticed their halloween candy was 75% off. So innocently she asked, what is 75% off of $.69. Without missing a beat, Amanda says a quickie!! ROLFLMAO!!!!! Bree and I were the only ones who hadn't had a drink at the restaurant, but we lost it! It is a good think it was 8 at night, because I know too many people at Hannaford!!!
So when we got back to my house, John was watching Hitman. The seemed to get right into the movie and it an awesome movie......warning, lots of violence and blood!
Once the movie was over we all decided to play Wii. Keep in mind that Sierra and I both had been drinking (I had 6 Smirnoff Ice and she was on 4, plus she had 2 drinks at the restaurant) and we still kicked ass!!!!! Bowling and Mini Golf!
It was too bad when the night ended (not ti 12:30am) but it was much needed and I actually felt NORMAL! We will be doing it again! Hopefully the end of December/ beginning of January for Amanda and Bree's Birthdays!
Love you ladies and HAPPY BIRTHDAY SIERRA!!!!!!!
The 4 of us!! (Bree, Amanda, Sierra and Me!)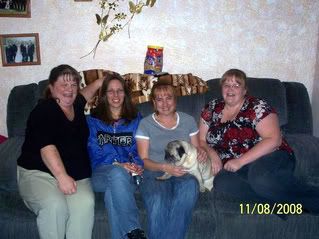 Sierra and I playing Wii!
Can you tell we had a lot to drink? I could only stand when it was my turn!!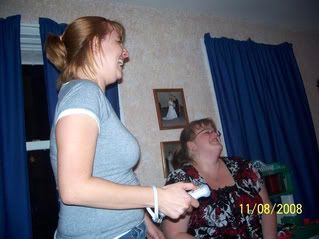 And then this is how I tried to get up....LMAO!!!!