Today has been a great, busy day. We were able to close the pool.....boo....that just reminds me that summer is over, yet again.
Also decorated for Halloween. That was fun. Jocelynn had a blast helping me fill the little pumpkin and ghost bags with leaves so we could hang them on the maple and apple tree in the front and side yard. Of course, we would rake the leaves in a pile to make filling the bags easier and she would run through the leaves yelling, "ha ha, I run through your pile!" It was very cute. below is the picture of the front yard after we were done. We haven't raked the leaves because personally I like them there and I refuse to rake until all the leaves have fallen.
Also the leaves on the trees are amazing. Below is the trees in the front yard and a close up of a tree in the side yard.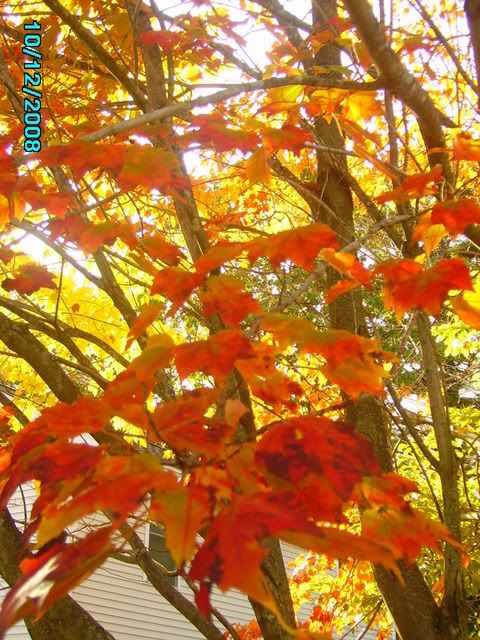 When Jocelynn wasn't running through the leaves she was playing with Spanky with his ball. Running and laughing. I so do enjoy these days.
Also Jocelynn helped Grammie plant about 5 dozen tulip bulbs. She was so cute and wanted to be the one to place each and every bulb in the ground. Next spring will be fun, watching for the first signs of life after a cold, baron winter.
So it was a busy day today, but we took full advantage of the unseasonably warm weather.